Office Relocation Packers and Movers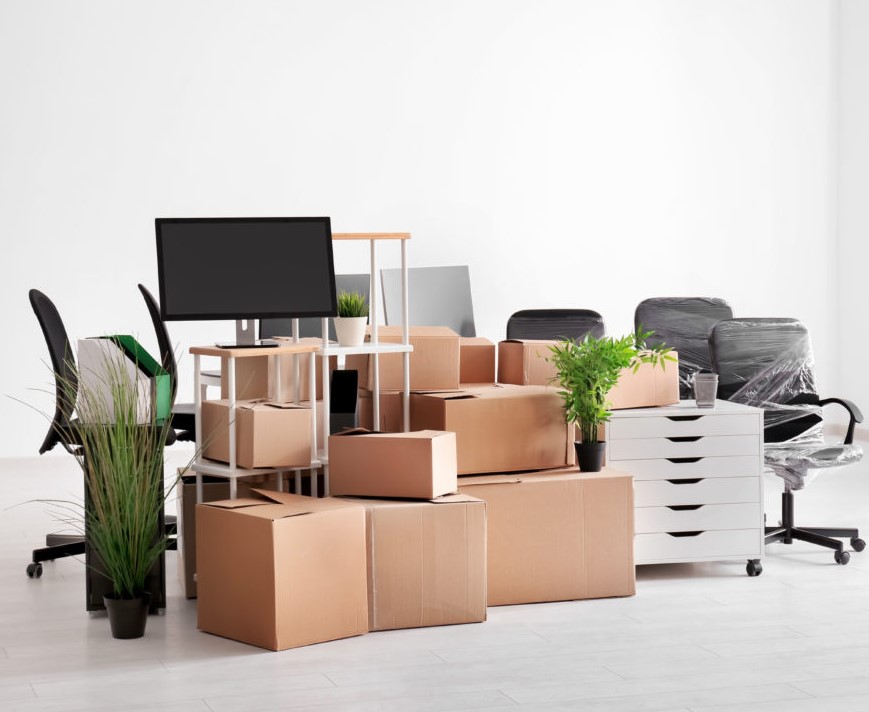 At EaseMyShift, we cater to every aspect of your business move; from packing and loading to moving commercial relocation. With our easy and consistent load services, there's never a loss of working hours involved in the transport and delivery of goods. Our deliveries are completed with minimal timeframes. We've designed our services to meet your office relocation needs with ease and affordability. We assure you that our service is bureaucratic-free and your happiness will be a priority.
Commercial goods and workplace moves need to be handled carefully with relocation. It's not as simple as personal belongings, requiring a lot of research into what needs to be done. You have to consider all the commodities and details associated with your business. Shifting offices comes with some risk and responsibility. A lot of things aren't owned by just one person, but the entire staff that's affected. The process of moving goods depends on several factors. The length of the move, the duration, and the budget all factor into a successful office relocation.
It is time-consuming to move office, without a doubt. All commercial moves require a team of six to get all your belongings relocated. While you might be able to relocate your household items all by yourself, this is not possible for commercial moves. To avoid being slowed down and exhausted by the hard process of packing and moving office items, it's best to leave it to professionals. The office relocation process is always complicated, whether the move is planned locally or domestically. For a high-quality packing and moving experience, consider the best packers and movers services. Office relocation is easier with our help. Routine work is never disrupted with our high-tech technology. We are also capable of managing big and small organizations. We are certain we will provide you with hassle-free and affordable office relocation services at reasonable prices.
Here's how to do successful an office relocation in India
There are a number of difficulties and challenges that come with relocating and rearranging your office. It is a time-consuming process with many challenges, but it is important you do it comprehensively so that you are safe. People are usually worried when they have to relocate their office because it is something new or something they've had to do before.
Here are 4 successful Ways that will make your office Relocation in India go well without Stress:
01. The office relocation team-building process and Plan-
When it comes to relocation, proper planning is necessary. Moving an office, for example, often requires much more detail than other types of moves. The first step in moving an office is to assign a project manager who can answer questions and coordinate with movers, providing a safe transition to the new location.
02. "We're Moving!" Giving Office Staff Notice of the Move-
To avoid complications, notify your employees well in advance so they can plan accordingly. There are many things to be mindful of when going through a relocation. For a cleaner and simpler office relocation, ask the staff to pack their work materials before the day they leave. If you do it this way, you won't need to worry about unpacked files containing confidential information.
03. Hiring skilled movers and packers-
Shifting office is a hard task to handle and requires professionals on your team to help. The moving company is the best way to avoid stress and feel comfortable during a move. To make sure to hire reputable movers and packers, do the research and get references first. The moving process becomes a lot less stressful with quotes from previous customers.
04. Prepare Staff for Process-
Before Shifting the entire work office, you should make a plan and share that of the new office layout with office staff. Once decided on where things are going, the new destination, you should take into account how they're going to be placed. Managers should share office relocation plans in advance to avoid turmoil.
Complexifying the office relocation process is a risky endeavor. One mistake can lead to costly consequences. If you want to be prepared for any type of workplace shift, make sure to do your homework beforehand. So, Hire someone when you're relocating office and your work will be better.
Obstacles/difficulties of office Shifting in India
As one of the most common reasons that office relocation in India is considered to be difficult, there are only certain obstacles that are treated as very difficult. Here is a list of the common obstacles that people face while shifting office goods from one location to another.
A number of goods to be moved- If you have a lot of people to move an office, packing up and moving everything at the same time may be a chore. Coming up with a way to pack and move all items in one go can be hard too, as the workspace consists of so many tiny and large items. Without human editors, it would be next to impossible to handle an issue that requires such specific expertise. Every item can't be handled solely. So there is a requirement for professional experts who help with this aspect of the task.
Confidential Document- Office is not always owned by one person. All office workers have their important materials at the office. All of the documents at an office are important, and each one demands a lot of importance. One document could be a disaster to rely on if it's lost or its condition deteriorates.
Office Furniture and equipment- Furniture, such as desks and office chairs is in bulk at the new office place. Shifting it from the old office to the new one is a tough task. It is important to note that the labor needed when loading and packing the goods is often very time-consuming. If your office staff is skilled enough to take on this task, you will have no trouble. Otherwise, you might need to hire movers and packers.
Technical Arrangements- When you shift your office, you do not just hand over your items when you're at the new location, let alone handing over the company. Once a company's most important asset (production facilities) has been transferred to the new building, it is its responsibility to function properly and efficiently.The amount of time it takes to set up and organize tools and other standard office supplies at the new workplace is a big obstacle, which may sometimes result in consequences for your working environment.
Planning for an Office relocation in India
It's challenging to work in an office on a typical day. But what about when you're moving your office? There are plenty of distractions during an office move. Employees have a lot of work to get done in an unfamiliar environment which can lead to higher levels of stress. As a result, business leaders may have to worry about their income as well.
Office shifting providers will handle your move and the upkeep of your home for you so that you can stay productive and worry-free.
The needs for office maintenance are determined by the size of the company, their in-office employees, and their new office requirements.When small businesses grow, they might rent an office space rather than building one. Big businesses might want a new space for their growing company and build an entire building.This deconstructs the process into several steps. First, we plan a workplace strategy in which we consider all the aspects of this move and create a customized checklist or master plan with steps that cover various areas:
Plan on how to budget moving expenses
Create a communications plan for employees during a move
Prepare for your office relocation by assessing your office equipment
Find the right company to help you move
Check out interior designers that specialize in office spaces
Notifying vendors and clients of an office move
Plan and finalize the office seating plan
Plan for moving day
Pack up your things and make a plan
Keep in mind all the new stationary you'll need for a new office
Check the office is ready for a move
Before the move, make sure everything works for at least a short period of time or is functioning as it should be
Stock up on coffee and snacks ahead of move day
Get a new email address to reflect your new office
Use moving day timeline to help prepare for your office relocation
Provide your employees with parking instructions, so they can find their way to work.
Assign responsibility for moving specific items (such as cleaning out their desks, and transporting their computers)
Need to redirect your phone number
Collect old keys and organize important documents
Update the new address of the company's website and make sure it is visible, as well as updating Google Maps, email signatures, and any other location where they may be displayed
After finishing up your work tasks, look through the office for any items you may have left behind.
Make sure to clean out your desk and put all of your belongings in the wastebasket.
Add special touches to make employees' first day a positive experience by while they explore the office and area.
A good office move will be an investment, but it's well worth it in the long run. Shifting to a new office location can help increase productivity, and is a great investment for a company. An office relocation in India can lead to other changes that you wanted to make.Completely change office dynamics in order to generate new ideas.Having the creativity of an employee's environment changed is a great way to get everyone thinking in a new way.