Overview of Aquatica Kolkata
Kolkata is the capital of West Bengal and one of the famous tourist destinations in India. The Aquatica Kolkata is one of India's famous amusement and adventure field parks. It is for all families, adults, and kids looking for fun in Kolkata. The Aquatica water park in Kolkata is in Kouchpukur, Kolkata, West Bengal. There are many fun rides, resorts, and lawns here to make your fun more enjoyable. Let's go and read more about Aquatica Kolkata.
Aquatica Kolkata: Resorts
A resort on the premises of Aquatica provides a unique and reviving experience. The hotel is located within an amusement park, allowing you to swim in the swimming pool, play around as much as you like, and relax in your room at the end of the day. The hotel offers two types of rooms; Deluxe Rooms and Super Deluxe Rooms. You'll find the following services at Aquatica for a weekend of pampering:
All rooms have king-sized beds, air-conditioning, wifi, TV, and laundry services.
You get a free breakfast when you book a room.
Kids under five stay free with an additional bed.
Room service is available 24 hours a day, and parking is available on-site.
Aquatica Kolkata: Rides For All
A major lure of Aquatica Kolkata is its large number of rides. Every child enjoys spending time at the Park over the weekend or during holidays. The rides are enjoyed by adults as well, in some cases. Additionally, it is an ideal site for a group outing with friends.
Jungle Safari
There is no doubt that this is a kid's favorite. A ride such as this gives the impression that you are in for a thrilling adventure without knowing what your journey will entail. It is a fun recreation of a safari in Madagascar.
Black Hole
Your adrenaline will be pumping after riding this ride. The experience of traveling through a long, spiraling tube into a pool of water is truly thrilling. As you slide down the tube, you are barely floodlit and seated on a raft, sprinkling into the water at the bottom. The tunnel ends with a pool where you can splash around.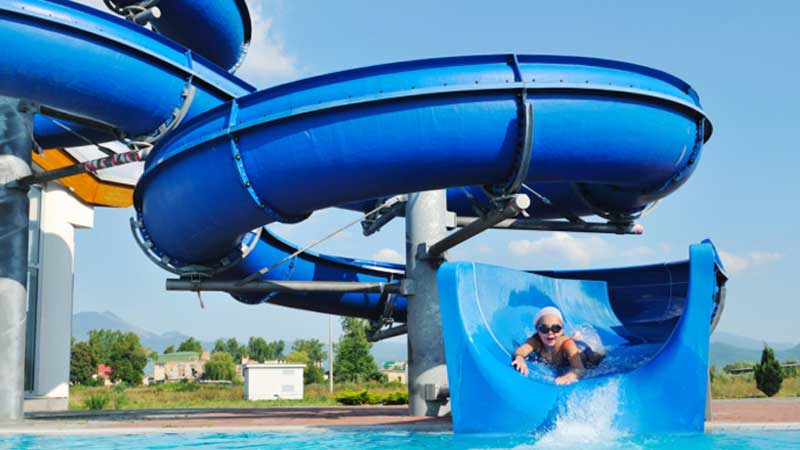 Raft Slide
A similar experience to the Black Hole, but less thrilling. You are pushed down a tube from an elevated position while seated on water rafts. On this ride, you are not in darkness but under the sun. As you slide through, you follow a series of loops and curves until you reach a narrow pool.
Aqua Dance
Undoubtedly, this is one of the most exciting activities you can partake in at Aquatica. Aqua Dance is an environment in which water sprinklers pour water from all sides, similar to a drizzle of rain. The background is filled with hip-Bollywood music to which you can groove and have a good time.
Niagara Falls
In this experience, you will bathe under the flowing waters of a make-believe waterfall. A natural, cool, fresh waterfall falls upon your shoulders from a height of sixty-five feet. There is a refreshing feeling linked with the experience.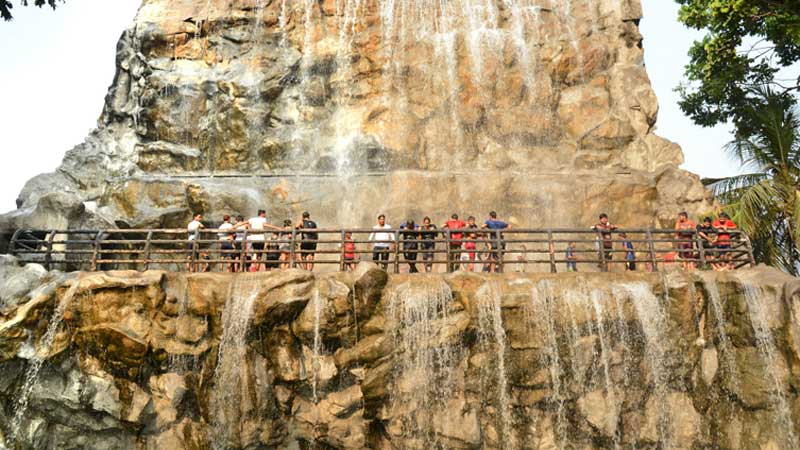 Cyclone
The effects of cyclones are generally sad and life-threatening. Despite this, Aquatica provides an exciting and enjoyable way to experience this natural marvel. After being pushed down a long tunnel with flowing water from a height of forty feet, you reach the calm water below the eye of the storm.
Wave Pool
The Wave Pool is one of Aquatica's most famous rides. This ride witnesses the largest number of people and the most notable experiences. Every minute, waves are produced just like those on a beach. With friends or family, you can spend hours bouncing off the waves.
Lazy River
Don't want to leave the water yet but are tired of riding the rides? There may just be a solution to your conflict in the Lazy River. Over a distance of five hundred meters, there is a gentle flow of water. Lazily glide over the water while resting on your tubes.
The Family Pool
There is a family corner for all the families driving in for a day out at Aquatica water park Kolkata. Families with children will enjoy splashing around together in the family pool. Small rides are available for children, as well as a fountain and slopes that slide them into the shallow pool.
Pendulum
Surely, this is one of the most thrilling rides at Aquatica Kolkata. The rider is transported up and down in the shape of a wide 'V' before finally coming to a halt. It's one of Aquatica's fastest rides.
Multilane
You must try this ride if you want the greatest fun. During the ride, the rider is required to lie on mats as it operates at high speeds. In your current position, you will be pushed down on a wavy, exciting journey until shallow waters are reached. The demand for this ride is always high throughout the year.
Aquatica water park Kolkata: Banquets
Several events can be organized at Aquatica Kolkata by groups, corporations, and event management firms. For your specific occasion, they offer a variety of facilities and venues to choose from. Your wishes will be taken into consideration when adorning them. As each hall has its package, food can be arranged at your request if necessary.
Aqua Lawn
In terms of open-ground space, it is the largest in the city. The area of the building is about thirty thousand square feet. A beautiful night sky provides the perfect backdrop for a wide range of events on this lawn.
Central Lawn
Aquatica's Central Lawn ultimately combines grace and style. Beautiful flowers and gardens surround the Lazy River, creating a beautiful landscape.
Niagara Lawn
With Aquatica's Niagara Falls in the background, the event being held alongside the falls has a soothing, relaxing atmosphere. A cool breeze and starry night create a beautiful heaven in the open air during the evening.
Conference Halls
As a corporate meeting venue, Aquatica strives to provide you with world-class facilities. There are top-of-the-line audio-visuals, plus tea and tasty food packages.
Aqua Hall
The venue has a variety of event halls, as well as an Aqua Hall. The venue is perfect for wedding receptions, formal sit-down dinners, and corporate meetings. This hall has state-of-the-art facilities and can house about two hundred people.
Aquatica Kolkata: Food
Aquatica Kolkata is a complete facility equipped with a café and a restaurant. Many tasty foods are available, including fried fish, pizzas, and other dishes from different regions and the mainland.
After a long day spent enjoying yourself, cafes and diners provide a cozy aura for satiating your hunger.
Aquatica Kolkata Ticket Price
Entry Fee
The entry fee for Aquatica Kolkata is fixed. However, their website offers an online booking feature that lets you avoid standing in line at the venue.
During weekdays, Aquatica Water Park Kolkata tickets are priced at Rs. 900 for adults and Rs. 450 for children. On weekends and holidays, the entrance fee for adults is Rs. 1000, while the fee for children is Rs. 500.
| | | |
| --- | --- | --- |
| | For Adult | For Children |
| weekdays | Rs. 900 INR | Rs. 450 INR |
| weekends | Rs. 1000 INR | Rs. 500 INR |
Note: The child category would only apply to children above 1 year of age with a height under 4ft 6 inches.
Swim Wear
You don't need to worry if you don't own a pair of swimsuits or have left them at home. This makes Aquatica Kolkata a very welcoming and accommodating place.
Resort
Room rates at the resort range from Rs. 3000 per night for Deluxe Rooms (Double Occupancy) to Rs. 3500 per night for Super Deluxe Rooms (Triple Occupancy).
Aquatica Kolkata: Timing
Water Park Aquatica Kolkata is open seven days a week from 10 am-6 pm.
Aquatica Kolkata: Best time to visit
A summer visit to the water world is the best time to visit. You can beat the heat by soaking in water during the summer, relaxing by a pool, relaxing in a resort, or simply spending time with your loved ones.
How to reach Aquatica Water Park Kolkata
Aquatica Water Park has a location in Koucpukur, Hatgachia, Kolkata. The neighborhood is a little further from the central, bustling part of the city, so it offers more fun. The location is close to Thakdari and New Town in Rajarhat. Aquatica can be reached in several ways:
By Bus: From the city center, you can take several local buses to Aquatica. NH12 and Thakdari Road are the two routes to reach Aquatica by bus. Alternatively, you can rent a private cab from top Kolkata car rental companies.
Auto Rickshaw: The auto-rickshaw is another interesting way to get to Aquatica. On this route, autos often ply. EM Bypass and Lake Town are within easy reach of Box Bridge in New Town. From the Bridge, there is a regular auto service to Aquatica.
Aquatica water park Kolkata: Address
Kouchpukur, P.O Hathgachia, P.S.:K.L.C, Thakdari Rd, Near Rajarhat Township, Kolkata, West Bengal 700156
Aquatica Kolkata: Official Website
https://www.aquaticaindia.in
Aquatica Kolkata: Frequently Asked Questions
How much does Aquatica Water Park entry cost per person?
On weekdays, Aquatica Water Park is available for Rs 900 for adults and Rs 450 for children under 4ft 6 inches tall. On weekends and holidays, it's 100 for adults and 500 for kids under 4ft 6 inches and older than 1 year.
What's the safety at Aquatica Water Park?
Aquatica Water Park provides all the safety gear you'll need.
Is there a minimum age to enter Aquatica Water Park?
It's open to everyone. Everyone can enjoy the water park with their family and friends.