The Biggest Shopping Mall in Bangalore
The culture and arts of Bangalore are rich with a multilingual heritage. As a result of the city's multi-ethnic culture and trendy lifestyle, many people from various parts of the nation have relocated to this city. Bangalore has much to offer regarding good places to tickle and be a stress buster during weekends.
A number of shopping malls have been established in Bangalore due to its busy streets and the craze for shopping among its people. Therefore, what could be more exciting than a shopping mall if you are a shopaholic looking to explore a wide variety of items under one roof? Let's go and find out more about the biggest mall in Bangalore.
Also Read: Biggest Mall in India
List of the Best shopping malls in Bangalore
Phoenix Market City, Bangalore
Shop at Phoenix Market City, one of the most famous and biggest malls in Bangalore. You can find world-renowned brands such as ZARA, Mac and Sephora cosmetics, and Fab India home textiles here. There are also many cafes within this mall, including Copper Chimney and Punjab Bistro, as well as kid-friendly Krispy Kreme and Burger King. Don't feel like eating? To cool down, you can enjoy coffee at Starbucks or ice cream at Haagen-Dazs. There's a nine-screen cinema complex where you can watch a good movie after a long day. There's much walking to do in the biggest mall in Bangalore, so wear comfy shoes.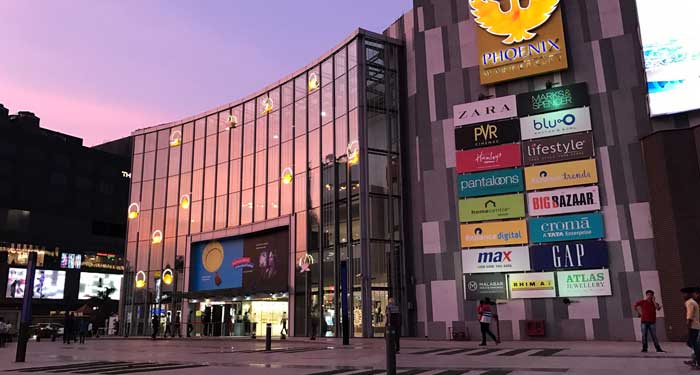 | | |
| --- | --- |
| Address: | Whitefield Main Rd, Devasandra Industrial Estate, Mahadevapura, Bengaluru, Karnataka 560048 |
| Phone No: | 080672 66111 |
| No. of floors | 4, including basement |
| Parking | 1700 car parks |
UB City Mall, Bangalore
A joint venture of UB Group and Prestige Group owns UB City Mall, voted the biggest mall in Bangalore. A branch is located in UB City in Bangalore on Vittal Mallya Road. Several popular brands are signified in the mall, including Estee Lauder, Etro, Burberry, and Café Noir. The best malls in Bangalore have Skye Lounge and luxury brands like Rolex, Estee Lauder, Etro, Louis Vuitton, and Dunhill. Thus, it is among the best shopping malls in Bangalore.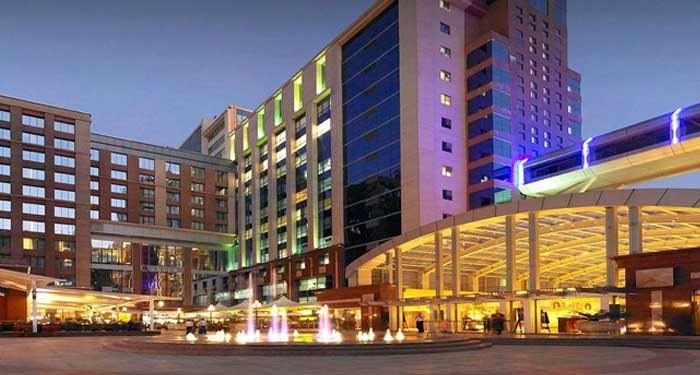 | | |
| --- | --- |
| Address: | 24, Vittal Mallya Rd, KG Halli, D' Souza Layout, Ashok Nagar, Bengaluru, Karnataka 560001 |
| Phone: | 097316 00994 |
| Floor count: | 20 (UB Tower/Concorde) |
Orion Mall, Rajaji Nagar, Bangalore
A well-planned and designed mall, the Orion Mall comes under the top 10 shopping malls in Bangalore. If you are looking for fashion, food, or movies, Orion Mall is the place to be. Fashion lovers will find a gem trove of brands here, including Vero Moda, Van Heusen, Ed Gardy, etc. Additionally, there are some fantastic food courts, bowling alleys, gaming zones, and cafes for your enjoyment. The lakeside path is another reason why it is one of the most popular tourist spots in Bangalore.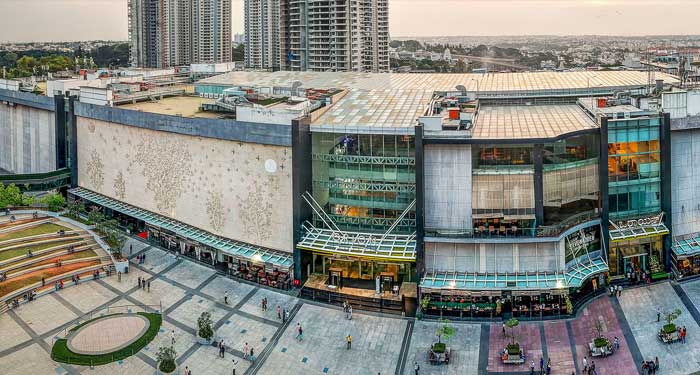 | | |
| --- | --- |
| Address: | Dr Rajkumar Rd, Rajajinagar, Bengaluru, Karnataka 560055 |
| Phone: | 080672 82222 |
Garuda Mall, Bangalore
The list of best malls in Bangalore would not be complete without citing the Garuda Mall. There are many shopping malls in Bangalore, but Garuda Mall is one of the best. One of the best places to visit in Bangalore is the MG Road market, one of the busiest shopping streets in Bangalore. The multi-level shopping mall has many popular brands of clothing, shoes, beauty products, eating joints, play areas, etc. A large parking complex is also available at Garuda Mall, which is one of the biggest shopping malls in Bangalore.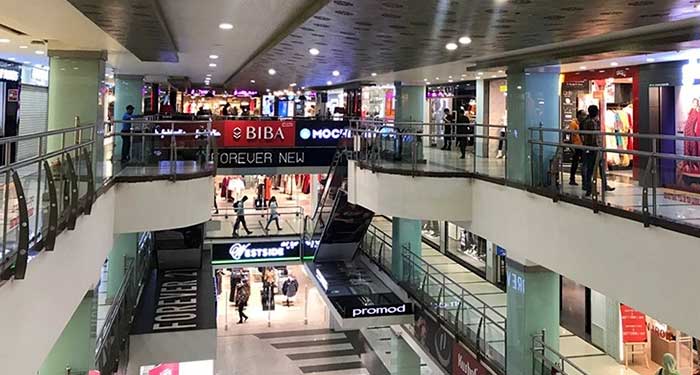 | | |
| --- | --- |
| Address: | Shop no -208 2nd Floor, Garuda Mall, Magrath Rd, Ashok Nagar, Bengaluru, Karnataka 560025 |
| Phone: | 092516 43742 |
| No. of floors: | 6 |
| Parking: | Multistorey Parking lot |
VR Bengaluru
City folk calls it the "Black Box on Whitefield Road". In addition to being a shopping mall, this swanky 'space' offers much more. This is due to its location near a boutique hotel, co-working spaces, a nine-screen theatre, and a large shopping mall. The VR Bengaluru Mall has beer gardens, cafes, and eateries. It is an all-inclusive shopping experience that exceeds most other best malls in Bangalore. The place has a farmers' market, an entertainment arcade for kids, a spa by the French brand L'Occitane, and the first Adidas Originals Concept store in the nation.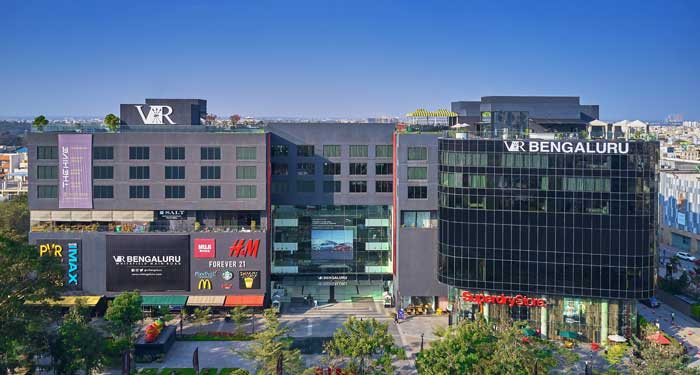 | | |
| --- | --- |
| Address: | Whitefield Main Rd, Devasandra Industrial Estate, Mahadevapura, Bengaluru, Karnataka 560048 |
| Phone: | 080 4669 3469 |
| No. of floors: | 7 |
Bangalore Central Mall, Bellandur
Among the city's biggest malls in Bangalore, Bangalore Central Mall offers first-class shopping experiences to its clients. A total of 12,000 square feet of space is devoted to this mall. Even though some family members enjoy shopping while others enjoy eating, families enjoy visiting the mall every time. There is also a high chance that the children will want to ride the rides badly. Four floors make up the shopping mall. The first floor has electronics, footwear, beauty care items, and women's clothing. In contrast, men's clothing is on the second floor, and branded sportswear is on the third floor.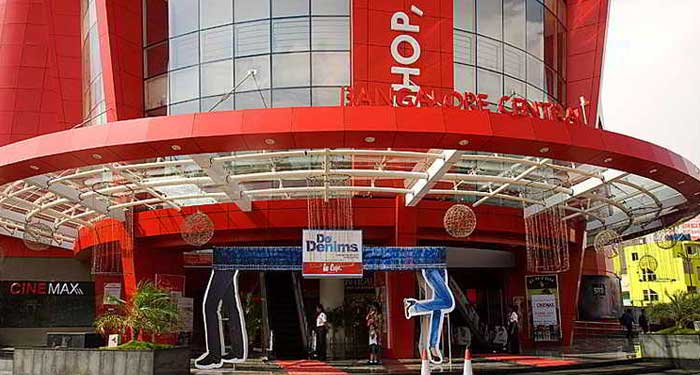 Several clothing brands, accessories, footwear, and various restaurants, food courts, pubs, and coffee shops are available. The aesthetic motif and furniture of the home are dedicated to entire floors. Shopping at the biggest malls in Bangalore is reasonably priced, so shoppers can do so without breaking the bank.
Address: Soul Space Spirit Bellandur Village Varthur, Hubli, Bengaluru, Karnataka 560103
Forum Mall, Bangalore
Forum Mall is one of the oldest and best malls in Bangalore. In addition to being spread out over five floors, the building is also packed with families and students seeking fun hours during the still-sunny weather. During your shopping spree, you may spend many hours perusing the huge Landmark bookstore. Furthermore, it is ideal for enjoying several leisurely coffee rounds at Kalmane Koffee. Are you a parent? Your children will enjoy playing at Timezone, a place with a collaborating entertainment center designed to delight them at the best malls in Bangalore.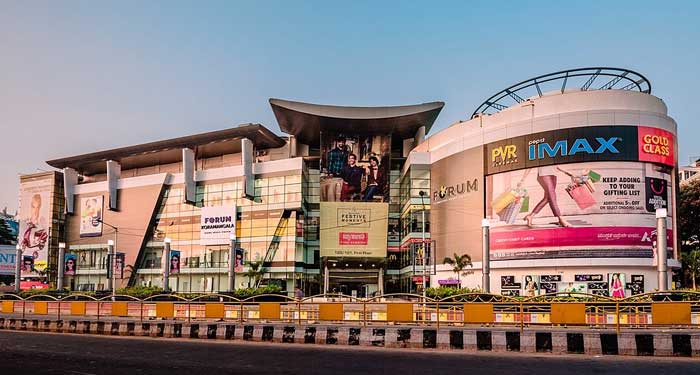 | | |
| --- | --- |
| Address: | Hosur Road, Koramangala |
| No. of floors: | 5 |
Mantri Square, Bangalore
The Mantri Square is located on Sampige Road in the heart of Malleswaram, one of the best malls in Bangalore. Having established itself as the definitive entertainment destination, it has carved out a niche. The mall houses more than 250 stores offering its clients a wide mix of national, international, and regional brands. Mantri Square provides a fascinating lifestyle shopping experience to the city's residents. A large food and beverage area provides an entertaining experience for all visitors to the mall. It has one of the largest food courts in the region with over 1,500 seating capacities, along with fast food outlets, fine dining restaurants, coffee shops, and juice bars. Located adjacent to a metro station, the mall has direct access to the station. There are two basements, a ground floor, and an upper floor, in the station, which occupies an area of more than 80,000 square feet. For over a decade, Mantri Square has been at the forefront of executing campaigns that attract the public's attention and leave an indelible mark on their hearts. Hence, visiting the biggest shopping mall in Bangalore is a must for everyone.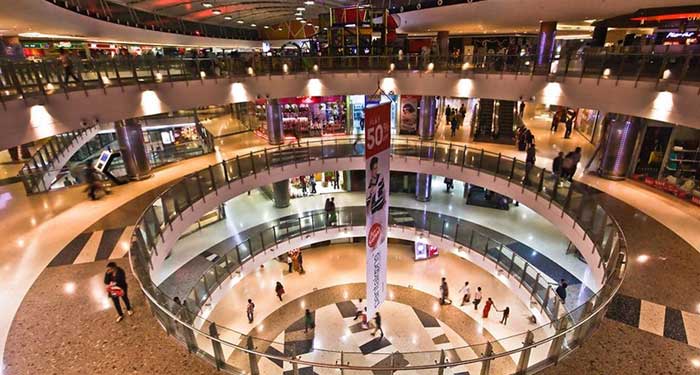 | | |
| --- | --- |
| Address: | 1, Sampige Road, Malleswaram |
| No. of floors | 3 |
| Parking | 1800 car parks; 550 two wheelers |
Lulu Mall, Bangalore
Located on 14 acres in Rajaji Nagar, Lulu Mall is one of the best malls in Bangalore. In total, 356 super luxury rooms and duplex penthouses are available within the property. In this way, the mall will be able to offer the best shopping experience to its clientele. It takes only ten to fifteen minutes from the mall to reach one of the largest Iskcon temples in the world, the Karnataka High Court, Race Golf Course, and Vidhan Soudha.
One of India's largest supermarkets is Lulu Hypermarket. A family entertainment center is also located within the mall named Funtura, which includes roller gliders, tag arenas, adventure courses, trampolines, virtual reality rides, 9D theatres, and bumper cars. The mall's food court will have a seating capacity of 1000 and a variety of multi-cuisine cafeterias and cafes.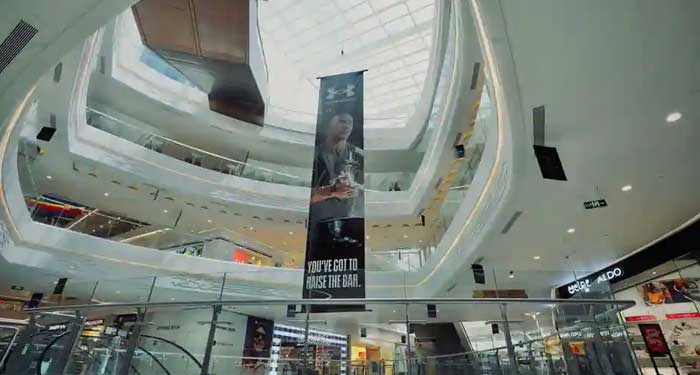 There are four exclusive subways leading to and from the best malls in Bangalore with direct entry. As a result, traffic can move easily from Majestic to Malleswaram and from Rajaji Nagar to Vijayanagar. There is also ample parking space, including a multi-level parking garage that can accommodate up to 1700 vehicles.
| | |
| --- | --- |
| Address: | Gopalapura, Binnipete, Bengaluru, Karnataka 560023 |
| Phone: | 080 4560 7788 |
Mantri Mall, Metro station, Bangalore
No other mall in India has metro connectivity, so reaching Mantri Square is as easy as hopping on the metro. Go to 'Mantri Square Sampige Road station on the Namma Metro Green Line. You can enter Mantri Square through a bridge connecting the station to the mall's first floor once you have landed at the station.
This comes under the biggest shopping malls in Bangalore, spread over one million square feet. As a family entertainment center, Mantri Square has established a niche since its inception in 2010. We provide customers with an extensive mix of international, national, and regional brands through over 250 stores. As one of the city's premier lifestyle shopping destinations, Mantri Mall provides a wholesome and enthralling shopping experience. At Amoeba and Kool Kids, little ones can let their hair down and have a great time. Thus, it is under the best malls in Bangalore.
Address: 17 Platform Rd, VV Giri Colony, Sevashrama, Bengaluru
Bangalore: how do I get there?
By Air: The nearest airport to Bangalore is Bangalore International Airport, approximately 40 kilometers from the city. Buses and pre-paid taxi services are available from here to the city. Flights to and from this airport are available domestically and internationally, making it convenient to reach the city.
By Rail: Bangalore's central train station is located in the city's center. Mysore Express from Chennai, Karnataka Express from Delhi, and Udyan Express from Mumbai are some trains that travel to Bangalore. Along the way, the train stops at several places.
By Road: Some national highways connect Bangalore with many other cities. Many buses depart from the Bangalore Bus Stand for major South Indian destinations regularly between the neighboring states and Bangalore.
The bottom line,
This blog mentions the biggest malls in Bangalore. These malls are so much famous in Bangalore as every year lakhs of tourists visit them and do their shopping. Local shopaholics visit the best shopping malls in Bangalore to have fun and shop here.
Best malls in Bangalore - FAQS
Can you tell me which mall is the best in Bengaluru (Bangalore)?
There are two malls in Bengaluru that every shopaholic should visit: Orion Mall and Phoenix Market City.
Can you tell me where the biggest mall in Bangalore is?
Phoenix Market City is the biggest mall in Bangalore, a popular place to hang out with friends for entertainment, dining, and shopping.
Which is the most famous mall in Bangalore?
UB City. Phoenix Market City, Forum Mall, and Mantri Square are some of the most famous malls in Bangalore.
Which is the best shopping mall in Bangalore?
In Mahadevapura, Whitefield, Phoenix Market City is one of the best shopping malls in Bangalore.