Highlights of City Park Jaipur
| | |
| --- | --- |
| Particulars | Charges |
| Entry Fees | Rs. 20/ Person |
| Annual Pass | Rs. 999 Per Year |
| Two Wheeler Parking Charges | Rs. 20 for 3 hours |
| Four Wheeler Parking Charges | Rs. 50 for 3 hours |
| Pre-Wedding Shoot Charges | Rs. 10,000 per day |
City Park Jaipur
The History of City Park Jaipur - Jaipur has a host of wonderful parks due to its rich culture. One of Jaipur's newest parks will be constructed, thanks to Honourable Chief Minister Ashok Gehlot Ji, who gave the leisure garden of 52 acres, which will be completed in two parts and the first phase opened on October 21, 2022.
The first phase of City Park included horticulture work, civil work, and a jogging circle, while the second phase includes a large fountain square, three grand entry plazas, a botanical garden, an upper lake (water body), a parking lot, a food court.
World-Class Architectural Design of City Park
World-class Architectural/Masterpiece design of City Park-Prior to being transformed into an urban greenspace, the adjacent "City Park" in Jaipur was a site of litter and waste. But now it has a fascinating historical and cultural value after Central Park in New York and Hyde Park in London. To boost the park's attraction, the layout is modeled like a golf course. There are 17 sculptures made of metal and stone at varying points throughout the park. The main draw of the park is that there is a lot of green space.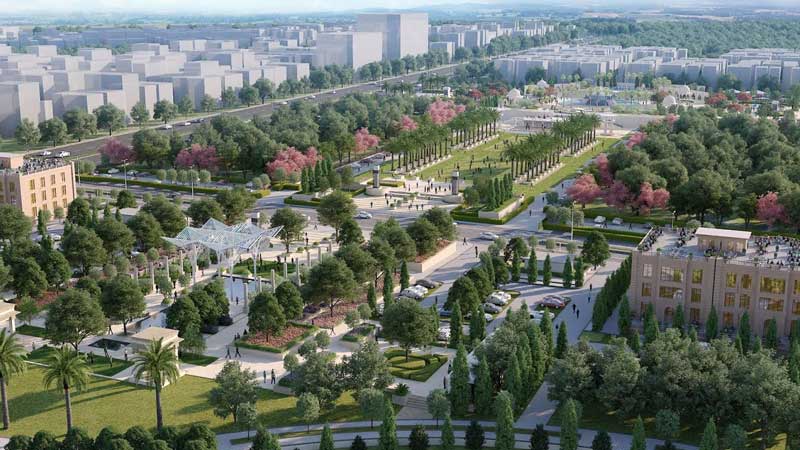 Here, They have created a makeshift park of 6 lights and 120 cutting-edge benches. They're installed all around the visitor to help create a cozy, warm atmosphere that invites people to take a moment for themselves. They have also provided water stations so people can stay hydrated and entertained in the meantime! With small, flowering areas, 32 different species of small trees and plants have been planted to make the park more attractive.
At the entrance to the park, an impressive fountain will be exhibited along with a music player. This fountain will play music in the morning and evening and water when it rains. Also, there is additional space available in the Oxy Hub and Rock Fountain parking lots. When you register your vehicle at the Oxy, you'll receive a sticker with all available parking spots designated out of their lot.
3.5 km Jogging Track - City Park Jaipur
The Garden offers visitors a 3.5 km long and 20 feet wide jogging path that is perfect for both running and walking. Along with the light and music, visitors can enjoy the natural beauty of this park as well. The Park of 17 Artifacts includes a vast number of sculptures and designs that capture the beauty of the city's natural landscapes. It will also feature a host of amenities that have been meticulously designed to create an inviting experience for everyone, including two parking spaces, a variety of outdoor seating areas, bathrooms, buildings, and more. The wastewater will be re-purposed for irrigation in a local park.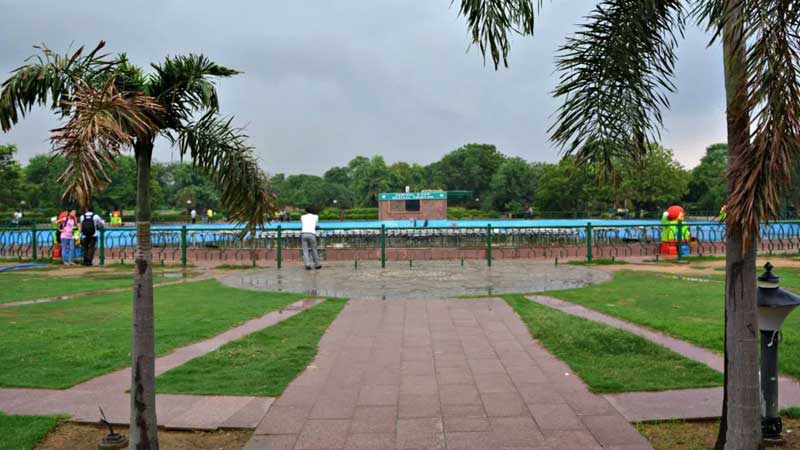 How to reach City Park Jaipur?
City Park Jaipur can be reached by road. Jaipur Bus Stand is located just a few minutes away from the park by car. Many buses operate from different parts of the country to Jaipur Bus Stand.
What to see nearby at City Park Jaipur?
City Park Jaipur is one of the world's most architecturally significant parks. Famous parks nearby the city park are:
Central Park, a large public park with ponds, streams, sculptures, and fountains;
The Jawahar Circle Garden, a garden designed by world-renowned landscape architect Charles Jencks;
The Mahatma Gandhi National Park is a large urban park with several lakes, and countless other smaller parks scattered throughout the city.
Interesting facts about the City Park Jaipur
City Park Jaipur is an upcoming world-class city in Rajasthan, India. The City Park is a key component of the city's development plan and will be one of the largest urban parks in Asia upon completion.
The City Park will be located on 52 acres of land in Jaipur's central area of Mansarovar. The park will feature a variety of amenities, including a large lake, walking and biking trails, playgrounds, picnic areas, and a botanical garden.
The City Park is being designed by world-renowned architects from across the globe. The park will showcase a unique blend of traditional Rajasthani culture and contemporary design.
Construction of the City Park is expected to begin in 2020 and be completed by 2025. The first phase of "City Park'' was opened by Honourable Chief Minister Ashok Gehlot Ji on October 21, 2022.
The park will be open to the public 7 days a week.

People in Jaipur can now enjoy their morning and evening strolls on a new 3.5-kilometer running path or Jogging track. The track is made of high-quality materials and it is extremely well-maintained. The entire track has been outfitted with music systems which will be playing quietly in the morning and evening to provide some background ambiance.

It's a fun, interactive space where kids can enjoy playing while they have to go to the bathroom or have a drink. The space includes play structures that are age-appropriate and games that are easy for beginners.
The chief minister and a number of dignitaries from India's important state-run bodies visited Jaipur's City Park. They began their visit on a tour of the entry plaza, with its dome-shaped steel frame, one-of-a-kind fountain, and handcrafted antiques. The park also has a wide variety of plant species and is a haven for birdwatchers.

How big is the Park and how much does it cost to enter(Ticket Price)?
City Park Jaipur is one of the largest and most architecturally impressive urban parks. The park covers an area of over 52 acres and features a wide variety of landscapes, including manicured gardens, lakes, and wild areas. The great thing about the park is that it's jam-packed with adventure. People can spend hours finding new things like the impressive entry plaza, dome-shaped steel structure, lovely fountain, and one-of-a-kind park antiques.
The park is open to the public daily from sunrise to sunset, and there are Rs 20 ticket charges per person.
Some of the other attractions in and around the City Park - The City Park Mansarovar Jaipur is a sprawling green space in the heart of Jaipur, Rajasthan. The park encompasses a wide range of attractions, including an amusement park, zoo, gardens, and lakes. There are also plenty of cultural activities on offer, such as puppet shows and traditional music performances. If you're looking for something to do on a rainy day, the park is definitely worth a visit. The park is open from sunrise to sunset daily.
Jaipur's City Park Speciality
Jaipur's City Park is a very special place. It is one of the most popular tourist attractions in Jaipur, and it offers a lot to visitors. One of the main attractions of the park is its flora and fauna. There are many different types of plants and animals living in the park, and it is a great place to see them.
The park also has a lot of interesting features. For example, there is a waterfall that flows through it, and there are many pavilions where you can sit and have a picnic. The park also has a lot of gardens where you can walk around. There are lots of different types of flowers and trees growing there, so you will definitely be able to find something that interests you.
If you want to explore the park more, there are many trails that lead through it. You can also hire a buggy or bicycle to take you around if you want to explore more closely. Whatever you do, don't miss out on visiting Jaipur's City Park – it is one of the most unique places in all of Rajasthan!
Location or address
Ward 27, Sector 6- Mansarovar, Jaipur, Rajasthan 302020
Metro city Jaipur is well-connected by Road, Railway, and Air. This colorful city attracts many people to relocate their homes and offices from span India. We as packers and movers service providers in Jaipur are always ready to help in home shifting with a budget-friendly quotation.