Overview of Fun World Bangalore
Fun World & Water World is one of the oldest, the finest, and the most popular amusement parks, which is Located in the neighborhood of JC Nagar in the center of Bangalore, India, where everyone can enjoy. A state-of-the-art facility and a wide range of entertainment options make the park a great place to make memories. It is spread over an area of 22 acres. From adrenaline-pumping and the fast and furious roller coasters to thrilling water slides, Fun World Bangalore has it all. It's a large park with many different high-thrill rides and attractions. The park also offers gentle rides and attractions for kids and adults alike. It's very well-maintained, and the staff is very friendly and helpful.
Besides water rides, the theme park has a food court, a green garden, and a food court, as well as locker rooms, changing areas, and several pools. The park also has a number of other attractions, such as a rainwater park, an arcade, a variety of shops, and a wide variety of food at reasonable prices at the park restaurants. The swimming suit and lockers will be provided complimentary.
Fun World promises a day filled with excitement and endless fun, laughter, and luxury, making it a perfect place for thrill-seekers to enjoy and a great place for spending time with family or friends.
Rides, Games, and Activities at Fun world Bangalore
There are 50 rides in four categories: kids, adults, families, and adventurous rides. In addition to fifteen rides for children, there are about ten rides for adults. Kids can enjoy many adult rides with an adult in their company. There are two types of rides available here: dry rides and wet rides. A few of the most popular dry rides are the musical fountain, crazy car, and virtual reality, while wet rides include the lazy river and many more. The rides are all safe and provide a unique experience that is hard to find anywhere else.
Fun Attractions for kids - The kid's area offers plenty of rides to keep children entertained the whole day.
Bucket Ride - It is a thrilling ride that takes on an exciting journey up, around, and down an inverted roller coaster.
Mini Dragon Train - Let your children sit in the little bogies and watch them laugh out loud. A mini dragon train ride is quite popular among kids.
Mini Super Jet - The ride features small rockets that rotate slowly at first, then take off gradually.
Mini Pirate Ship - Feel an adrenaline rush and experience a lot of movements at the same time.
Revolving Tower - The Revolving Tower ride rotates in a circular motion, offering an awesome view of Fun World.
The Sun & Moon Mini Wheel - Riders can enjoy the sensation of being pulled in opposite directions as two spinning wheels represent the Sun and Moon. It is for all aged people.
Kiddy Tagada - With its spinning motion, multicolored lights, music, and effects, the ride is even more exciting for children
World Wrestling Pillow -Two competitors use padded pillows as weapons in an all-out combat game for kids.
Kiddies Bumper Boat - Kids can sit in their own boats and have fun in the tiny pool as well as play with others their age.
The Jumping Frog - Here the kids are safely harnessed to their seats, so no need to worry about it, children can enjoy free falls from a certain height.
Flying Tiger - Located in a giant metal arm that swings around in circles, getting higher and higher, this is a roller coaster-type experience with 360-degree turns, spins, swings, dips, and dips.
NFS Car Race - Opponents feel a thrilling ride on high-speed electric cars where participants have to manoeuvre the track at top speeds.
Baby Motorbike - The thrill of riding a real motorbike on this motorbike-themed ride around the park
Flying Appu - Kids can sit in an elephant-shaped seat on the Flying Appu, a mini-version of the Merry-Go-Round ride.
Mini Columbus Ride - Specifically designed for little ones, a bit scary, watch little ones closely because the Mini Columbus takes them back and forth repeatedly.
Attractions for Adult - Fun World Bangalore
Swing Chairs - The main pole will rotate to push away in the air while sitting on a chair attached to it.
Fight of the Spanish Bulls - In the ring, sit on the bull and hold it tight as it dances around it.
A space vehicle - It's smaller than a roller coaster but faster than ever. Hold on tight and let the ride take you to new heights.
A Crazy Fireball - As its name implies, the crazy fireball gives a life-sized thrill that will certainly stay with a few more rides.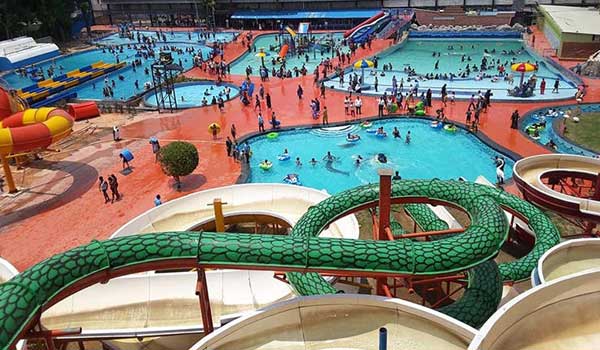 Attractions for Family - Fun World Bangalore
HANG GLIDER - Swing around on this ride for a thrilling experience. Those who have severe medical conditions should avoid this ride.
INDIA PLANE RIDE - With incredible 3D visuals and sound effects, riders fly through the sky in a realistic plane simulator.
FUN EXPRESS - With its combination of high-speed turns and drops, this ride is thrilling for kids and adults alike.
OCTOPUS RIDE - It is Designed in the shape of an Octopus, and it has eight bucket seats that can fit one family on each bucket.
Games with Adventure - Fun World Bangalore
SKY DROP - The chamber is suddenly released without warning, causing an adrenaline rush and experiencing free falls at varying speeds.
THE PALACE EYE - A different ride with the real perspective of The Palace Eye.
CRAZY FIREBALL - It has eccentric spins for experiencing the crazy way of riding.
PANIC CLOCK - 4 minutes to complete a series of challenges in this immersive, action-packed game.
THE LOOP ROLLER COASTER - Unexpected twists and turns with varying speeds while riding this ride.
THE YAHOO SLIDE - Three levels of twists and turns on this thrilling slide, which flies up to 80 feet in the air before plunging back down.
ORBIT - A high-speed roller coaster that spins 360 degrees as it goes up, down, and around a 20-meter-high tower.
POWER SURGE - Fly high in the air while experiencing 360-degree spins in a clockwise and anti-clockwise direction.
RIDE TSUNAMI -This ride can accommodate 20 people at a time and is not advisable for people who are suffering from heart conditions.
How to Reach Fun World Bangalore
With its convenient location near the city center, it's easy to get to Fun World Water Park. The Fun World Park is located about a mile from Snow City, 3 km from Bangalore Palace, and 4km from Cubbon Park. Bangalore Airport is 32.7 KM from the Park. It will be able to cover the distance within an hour and a half from Bangalore Airport. Renting an auto or booking a taxi online or local transport is cheaper to reach Fun World Bangalore.
Address Of Bangalore's Fun World
Fun World Amusement Park is the perfect place to enjoy some fun and thrills with a convenient location
Jayamahal Main Road, Opposite TV Tower, Palace Grounds, J.C.Nagar, Bengaluru, Karnataka, 560006, India

The phone number for Fun World Bangalore:- 084 311 1000, 080-2343 0496
The amount of time required:- More than 3-4 hours or a full day to visit the park for enjoyment.
Entry Fee/Ticket for Fun World Bangalore
It's easy to budget for a day of fun at the park With a variety of ticketing options available for affordable prices.
| | |
| --- | --- |
| Combo tickets (Fun World + Water World) | Rs. 1200/person INR |
| Water World tickets | Rs. 900/person INR |
| Fun World tickets | Rs. 800/person INR |
Timings for Fun World Water and Amusement Park Bangalore
January to December/Monday-Sunday:- 11:00 AM – 7:30 PM
Best Time to Visit the Fun World Bangalore
Bangalore welcomes everyone, whether local or outsiders the best. The temperature is perfect and remains pleasant throughout the year for water parks. In the summer, swimming pools are ideal for a day out. Even it's allowed to be there in winter too.
Attractions near Fun World Bangalore: Star City, Culture Rings, Snow City, Bangalore Palace, Gandhi Bhavan Bangalore, Jawaharlal Nehru Planetarium Bangalore, Cubbon Park, Bangalore Aquarium, and many more.
Near Fun World, there are many places to eat such as The JayaMahal Palace Hotel, Kitchen on Table, Kesariya Restaurant, and Caprese Restaurant.
Items need to Bring while entering Fun World Bangalore
Id card, Camera, Selfie Stick, Water bottle, Sunglasses, Cap, Sunscreen, Power Bank, Swimming Dress.
Mode of Payment options - Pay Via VERISIGN, Net Banking, RuPay, Visa, Mastercard, Maestro, UPIGoogle, PayPaytm, or Cash
NOTE:- It is very important to know all things about visiting Fun World Bangalore Park in advance.
Under the age of 3 Years, a Ticket is 500 INR. Above the age of 3 Years, a Full Ticket is applicable.
Combo Offer (Fun World+Water World) for 1200 INR is worth buying.
Food can be carried inside.
Alcohol, Smoking, Skateboard, Weapons, Plastic Bag, Pets, Wifi, etc. are not allowed
Locker service for free with a deposit of 1000 (refunded).
Make sure to bring spare clothes in case need them after the water park.
Follow all the instructions given to avoid any mishaps.
Common Questions about Fun World Bangalore
What time does Fun World Water Park Bangalore open?
Fun World Water Park is open from 11:00 a.m. - 7:30 p.m., Sunday to Saturday, from January to December.
What are the attractions near Fun World Water and Amusement Park?
There are many things such as Gandhi Bhavan Bangalore, Jawaharlal Nehru Planetarium, Star City, Culture Rings, Snow City, Bangalore Palace, and so on.
When visiting a park, what happens if it rains?
If it rains or the weather is bad, there will be no refunds. Therefore, it is best to plan a trip after checking the weather forecast. All rides will be closed during heavy rains, lights up, or blowing air winds.
Does the park have food stalls?
Yes, fast food from many of the food stalls is available there. However, no restrictions on bringing food from outside.
Is alcohol restricted at the park?
Yes, The park restricts the consumption of alcohol.