Ram Mandir Ayodhya - Shri Ram JanmBhoomi
Ayodhya's Ram Mandir is a revered Hindu temple dedicated to Lord Ram who is the seventh incarnation of Vishnu as per Vishnu Puran. The Ayodhya dispute is a political, historical, and socio-religious dispute in India concerning the Ram Janmabhoomi Which is the birthplace of Rama. Hindus believe that the site should be the site of a Ram temple, while Muslim groups believe that the site should be home to a mosque, which is the reason for the dispute.
A grand Ram Temple was built at Shri Ram's birthplace in Ayodhya, but it was destroyed by the Mughal invader Babar and replaced by a mosque.
There was a long campaign under the leadership of Rashtriya Swayamsevak Sangh and the Bharatiya Janata Party to free this place and to build a new temple there. The disputed structure was demolished on 6 December 1992 and a temporary temple of Shri Ram was built in its place.
The temple will be built in the traditional North Indian style with a complex of courtyards, gardens, and shrines. Surrounded by green fields and trees, it is located on the banks of the River Saryu. There are a number of smaller shrines and temples, as well as a museum and library within the temple complex. It is said to be one of the largest temples in India, with a capacity to accommodate up to 1 lakh (100,000) people at a time.
History of Ayodhya Shri Ram Mandir
India's holiest city, Ayodhya, has a long and rich history dating back thousands of years. India's history is closely entwined with that of the Ram Mandir Ayodhya. A brief history of the Shri Ram Janma Bhoomi dispute:
On the Ram Janmabhoomi, a mosque was built in 1528. The Hindu mythological texts Ramayana and Ramcharit Manas describe Lord Rama's birth there.
Hindus and Muslims fought over this land for the first time in 1853.
For worship and namaz, the British asked Muslims to use the inner part and Hindus to use the outer part 1859.
The government locked the gate in 1949 after placing an idol of Lord Rama in the inner part.
To protest the opening of the disputed site to Hindu worship in 1986, the Muslim community formed the Babri Masjid Action Committee.
The Vishwa Hindu Parishad began a campaign to build a Ram temple on the land adjacent to the disputed site in 1989.
About two thousand people died in countrywide riots after the Babri Masjid was demolished in Ayodhya on 6 December 1992.
M.S. Liberhan, retired Chief Justice of the Andhra Pradesh High Court, was appointed chairman of the Liberhan Commission on 16 December 1992.
Despite being asked to submit its report by March 16, 1993, the Liberhan Commission took 17 years to do so.
The Supreme Court rejected Mohammad Ismail Farooqi's challenge that the Center was only a collector of this land in 1993. After the ownership rights are decided, the land will be returned to the owners. Recently, the Center filed an application to access this additional land.
Ram Janmabhoomi Nyas requested this land from the Central Government in 1996, but it was denied. In 1997, the trust approached the High Court but was rejected again.
Aslam Bhure petitioned the Supreme Court in 2002 when some activities were taking place on non-disputed land.
In 2003, the Supreme Court ruled to maintain the status quo, saying disputed and non-disputed land cannot be separated.
The Liberhan Commission submitted its 700-page report to Prime Minister Dr. Manmohan Singh and Home Minister P. Chidambaram on 30 June 2009.
48 times, the inquiry commission's term was extended.
For the last time, the Liberhan Commission, whose term expired on 31 March 2009, was extended by three months until 30 June 2009.
Ram Janmabhoomi was declared by the Lucknow bench of the Allahabad High Court in 2010. Hindu groups should be given the disputed land, which has been considered Ram Janmabhoomi by the court. According to the court, the idol of Ramlala will remain there, since some parts of it, such as Sita Rasoi and Ram Chabutra, are also in the possession of Nirmohi Akhara. In addition, two judges ruled that Muslims have prayed on some parts of this land, so one-third of the disputed land should go to Muslim groups. Hindu and Muslim parties refused to accept this decision and appealed to the Supreme Court.
In August 2017, the Supreme Court decided that a three-judge bench would hear the dispute daily starting on 11 August 2017. Prior to the hearing, the Shia Waqf Board filed a petition in the court claiming to be a party to the dispute, challenging the trial court's judgment of 30 March 1946, which declared the mosque to be Sunni Waqf Board property.
According to the Supreme Court, the final hearing, in this case, will begin on 5 December 2017.
According to the Supreme Court, the final hearing, in this case, will begin on 5 February 2018.
In the report, it was stated that "the structure under the mosque was not Islamic". The Archaeological Survey of India (ASI) has confirmed that a temple was underneath the demolished structure. ASI would be insulted if its archaeological evidence were merely an opinion. However, The ASI did not establish that the mosque was built by demolishing the temple.
According to the Supreme Court, "Sita Rasoi, Ram Chabutra, and Bhandar Griha are evidence of the place's religious reality".
The Ram Mandir Ayodhya remains an important Hindu religious site and one of India's most popular tourist attractions despite its controversial history.
Supreme Court's decision in Ram Mandir Ayodhya
The Supreme Court made a landmark decision in Ram Mandir Ayodhya that will live on forever in everyone's heart for years to come. Ayodhya's disputed land will be given to the Hindu group for the construction of a temple, while the Muslim group will receive five acres of land in a different location. Some have hailed this verdict as a victory for justice and religious harmony, while others have criticized it as unfair. Despite extensive evidence and arguments presented by both sides, the Supreme Court ruled that the disputed land should be given to the Hindu group for the construction of a temple. Hindus have worshipped at this site for many centuries, and there is ample archaeological evidence to support this claim.
The case was first filed in 1950 by Mahant Paramhans Das, who claimed ownership of the birthplace of Lord Ram. Nirmohi Akhara, another Hindu religious order involved in temple activities in Ayodhya, filed another suit in 1959. A case was also filed in 1961 by the Uttar Pradesh Sunni Central Waqf Board, claiming that the 16th-century Babri Mosque was built on land gifted to them by Mughal emperor Babur.
A five-judge bench headed by Chief Justice Rajan Gogoi decided the Ayodhya dispute on 9 November 2019 Nirmohi Akhara's petition was rejected, and the Sunni Waqf Board was not considered to be entitled to sue. The Supreme Court bench unanimously ruled in favor of Ramlala by 5-0, considering the disputed site as the temple's location. The government was ordered to give 5 acres of land in Ayodhya for the mosque, now there will be a grand Shri Ram temple.
Construction Status of Ram Mandir Ayodhya
It is expected that the Ram Mandir in Ayodhya will be completed by 2024 on the site of the 1992 Babri Masjid, which was destroyed by Hindu mobs. It will be a replica of the original Ram Temple that existed prior to the demolition of the Babri Masjid. The site where the temple is being built is believed by Hindus to be the birthplace of Lord Ram. A trust set up for this purpose, Shri Ram Janmabhoomi Teertha Kshetra will build the temple.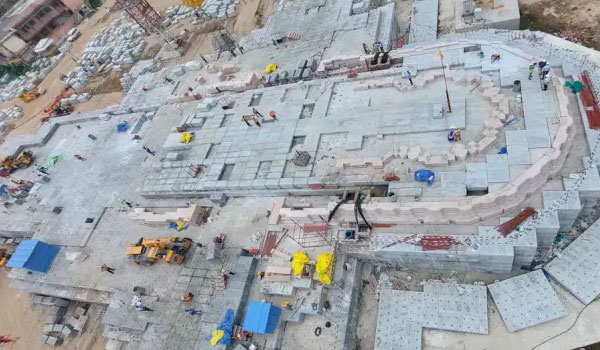 Ayodhya's grand Ram temple is 50 percent complete. In January 2024, this Ram temple will be opened to devotees, and idols of Lord Ram and other gods will also be installed. It is also claimed that the ground floor of the temple will be ready by December next year, and the temple will open for devotees in 2024, based on how fast construction is going.
The temple is being built according to traditional Hindu architectural styles and will be four stories tall. It is expected to become one of the most popular pilgrimage sites in India when it is completed and it will have a main shrine dedicated to Lord Ram, as well as other shrines dedicated to other Hindu deities. Over Rs, 2,000 crores has already been raised for the construction of the temple, which is estimated to cost Rs 1,100 crore.
In addition to the temple complex, there will be a museum, library, auditorium, and guest house for pilgrims and tourists too.
How grand will the Ram Temple be?
Shri Ram Janmabhoomi Teerth Trust members estimate the temple will cost Rs 2000 crore. There will be a gold-plated statue of Lord Ram at the main shrine. According to some reports, the Ram temple in Ayodhya will be even larger than the Taj Mahal. It will be a massive structure. It represents the cultural and religious heritage of India. Vishwa Hindu Parishad (VHP) is overseeing the construction of the temple, which is being funded by donations from Hindus around the world.
With a height of about 200 feet and a plinth of about 60 feet, the temple will have a height of about 60 feet. The main sanctum sanctorum will be located at about 150 feet. It will be accessible through a massive gate adorned with statues of Ram and Hanuman. A massive wall will surround the entire complex, with several entry gates.
600 years old Shaligram stone was brought from Nepal to make the grand idol of Shri Ram
As part of the current plan, along with the Ram temple, temples of Valmiki, Shabri, Jatayu, Sita, Ganesh ji, and Laxman ji will also be built. And Ayodhya's Shri Ram temple will be built with special holy rocks from Nepal's Gandaki river. Special holy rocks (rocks) have reached Ayodhya from Nepal's Gandaki river to make the idol of Lord Rama.
Mahant Tapeshwar Das of Nepal's Janaki Temple presented the holy stones to Champat Rai, general secretary of Shri Ram Mandir Trust, on Thursday afternoon after special worship by 51 Vedic teachers.
Upon completion of the carving, the idol of the child form of Ram will be consecrated in the sanctum sanctorum of the Ram temple by Makar Sankranti in January 2024. Two large stones from 60 million-year-old rocks found in the Gandaki river at Shaligram or Muktinath in the Mustang district of Nepal were flown from Nepal last Wednesday. One stone weighs 26 tonnes and the other weighs 14 tonnes.
It will no doubt become one of the most popular tourist attractions in India, and will surely be a source of pride for Hindus worldwide once it is completed.
Best time to visit Ram Mandir Ayodhya
Ram Mandir is best visited during the festivals of Diwali or Dussehra when the temple hosts special pujas and celebrations. Indian pilgrims come from all over the country during these days.
Ram Mandir Opening and Closing Time
It is open from 7:00 AM to 11:30 AM and from 2:00 PM to 07:00 PM from early morning to late evening for all people. Daytime (morning hours) is the most preferable time to get Darshan as it gets quite crowded during peak hours. During the midday break (at lunchtime), the temple is closed. Darshan timings are extended on special occasions, such as festivals (Diwali, Dussehra).
Note -
Respect the sanctity of the place by dressing modestly and in a simple dress.
Remove your shoes before entering the main temple to see Lord Ram's idol.
Prayers should be offered with utter devotion and humility.
Shri Ram Aarti Timings
Mangla Aarti(Shringar/Jagaran Aarti) - At 06:30 AM One Day prior to Booking (depending on availability).
Jhanki (Sandhya Aarti) - At 07:30 PM every day (booking subject to availability).
Note: Reach Ram Mandir's camp office, 30 minutes prior to all Aarti time and Keep Identity Proof (Any Valid Gov.ID).
How to Reach Ram Mandir Ayodhya
Ayodhya's Ram Mandir is one of Hinduism's most sacred pilgrimage sites. Lord Ram's holy temple is visited by millions of devotees every year to have a darshan (a glimpse) of Lord Ram and ask for his blessings.
By Air: Reach Ayodhya by taking domestic and international flights from Lucknow Airport. Ayodhya is about 130 kilometers away from Lucknow Airport by cab or bus. There is another nearest airport to Ayodhya is Faizabad Airport, which is located just 10 km from Ayodhya. But no direct flights from any cities to Faizabad Airport, India,
By Rail: From major Indian cities like Delhi, Mumbai, Lucknow and Kanpur, and Kolkata, there are a few trains that go directly to Lucknow Junction. Then take a taxi, auto, or bus to reach The Ram mandir.
By Road: Ayodhya has good road connections with all major cities in Uttar Pradesh. Go by a personal vehicle, and drive to Ayodhya via NH 24 in approximately 7 hours to reach Ram Mandir. The neighboring states Bihar and Madhya Pradesh are also well connected to UP and have good road maps to connect Ayodhya to Ram Mandir. By bus takes about 8 hours from Delhi.